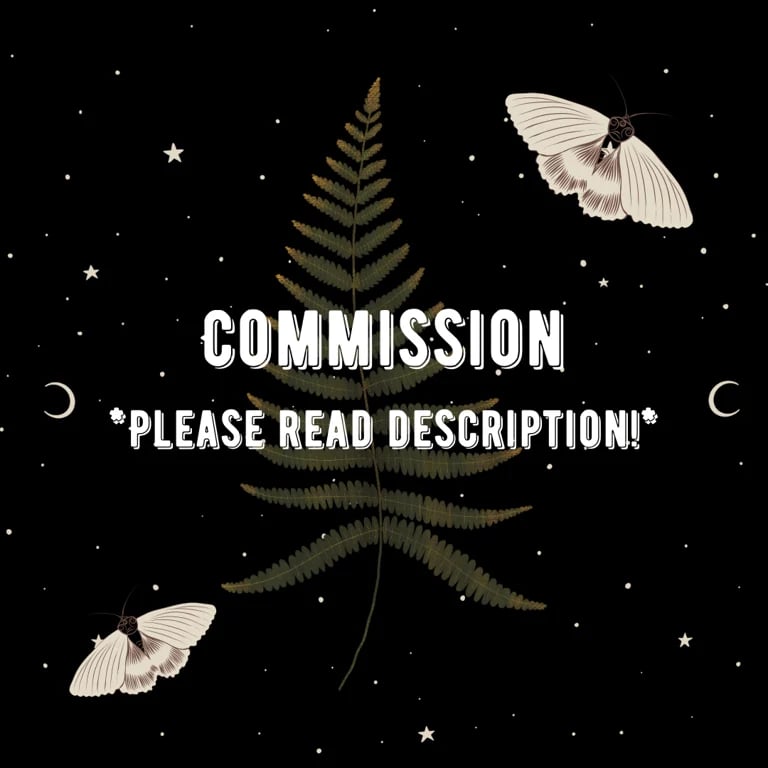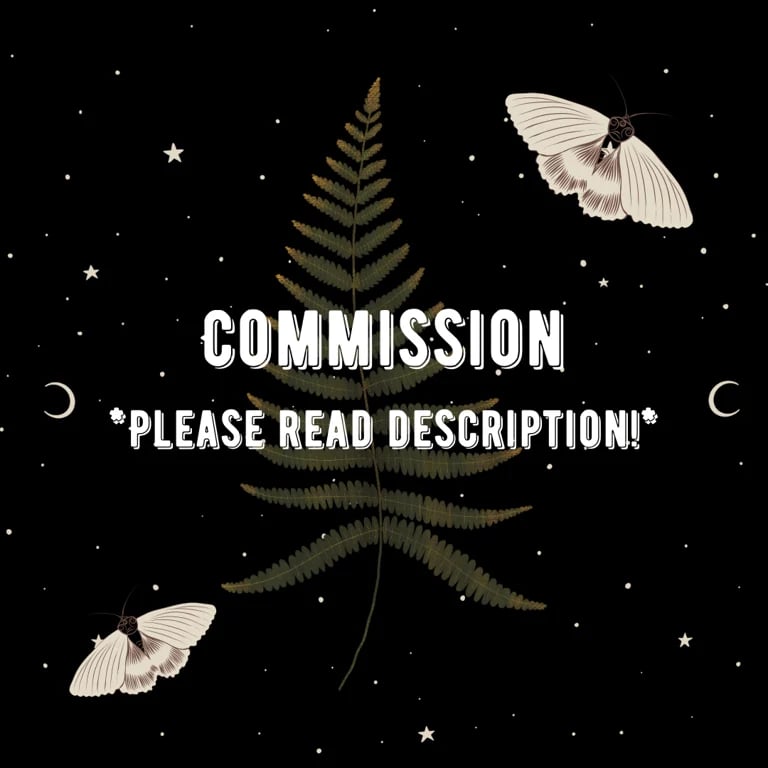 **COMMISSION***READ DESCRIPTION
$0.50 / Sold Out
**LIMIT ONE PER PERSON**
Please keep in mind that commissions could take over a month to be finished plus ship time. If you have a time restraint, let me know and I will see if I can work with it.
To contact me after you read this, either use the contact form on my website or directly email me at [email protected]
Please read this description in its entirety. Once you have purchased your commission listing, send me an email with your commission request.
If you do not reach out within 24 hours, I will move on to the next person and you will need to wait until commissions open again! Deposit must be paid within 2 hours after the amount is decided.
Things I will not do:
- A copy of someone else's work. Please don't ask me to do this! I would hate it if someone did it to me.
-Anything illegal, such as work with animals that are protected under the migratory bird act (ex. Hummingbirds, owls, US crows)
Time:
The time frame will depend entirely on what it is I'm doing for you, if I have to order anything specific, and how many people are ahead of you. If you have a specific date you are needing your piece by, please let me know.
Pricing:
This will depend on what you're wanting done and what all is included.
Things to include in your email:
-Budget (please let me know whether or not shipping cost is part of your budget)
-Size of the terrarium/frame (take a screenshot from my website or Instagram if needed to show an example)
-Type of crystals if you want them added to a terrarium (I keep amethyst, citrine, quartz, smoky quartz, angel aura quartz, and labradorite on hand). If you want something else, I will usually need to make an order, which is fine!
-Mushrooms added? I use turkey tails or morels!
-Any skulls or bones added? I have a big selection usually, but keep in mind the sizing based on what you're wanting and know your local laws!
-Flowers?
-Colored moss? (I have a pretty large selection, even a few different greens!)
-Placement (You can either tell me where you want things or let me figure it out!)
Can I send you personal items to create a piece out of?:
Absolutely. As long as it isn't anything offensive and is already preserved (if it's a bug/animal) I will put something together for you and take this from the usual cost. Shipping to me will be at your expense.
Deposit *IMPORTANT*:
I will not start on a piece or begin ordering what I need for it until I have received a deposit of 50% of the price I quote you on. The first payment will not include shipping, so plan for the second payment to be slightly higher. The second payment must be paid within two weeks of the first payment unless another arrangement has been discussed (for example, a piece that costs more than $1,000). I will still require half up front. Payment must be made in full, including the ship cost, before I will send it out or let you pick up. If you fail to make your second payment within the discussed time frame, your deposit becomes void. I will post the item for sale and someone else may buy it instead. If you message me after it sells, a new deposit must be made to create a new one.
Afterpay:
I can accept Afterpay through my Square account or website! There will be a 5-6% up charge on the price due to the fees it takes from me. If you need this option, just let me know.
How to pay:
For commissions, I accept Venmo, Cash App, Facebook Pay, and Zelle. If you'd like to use PayPal or Square, there will be a 5% up charge. If you are local, you can make your payments in cash if needed.